One of my special interests in early childhood is creative-arts play. I have been thinking for a while that I would like to post different play activities/fun ideas I have developed over my training; partly as a record for myself, but also to help other teachers and anyone who cares for young children regularly.
Of course I never really got around to it, but Christie over at
Childhood 101
has started a weekly link up to spread the idea of encouraging children to play. I'm a huge fan of play for young children – it's so important for all areas of development. So hopefully this will be a good motivation to post a few of my ideas.
Today I wanted to share tennis ball painting.

You need;
- Some dishes (that are able to hold enough water to cover a tennis ball and are easy for kids to reach in and out of).
- Some tennis balls
- Kid friendly dye, tempura paint or watered down acrylic paint. (I find tempura powder added to water is best)
- Paper
- A large area to make a big mess (outside on the grass is best - but if you don't have enough room like we did, you can put down lots of news paper to protect the area).
All you need to do is dunk the tennis ball in the paint and then drop/roll/slide it over the paper.
What different shapes you can make when you drop the tennis ball from different heights?
Do fast rolls make a different line than a slow roll?
Can you draw a picture with the ball? What about using your feet to control the ball?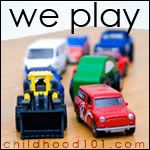 Come over and play at the Childhood 101 We Play link up